| | |
| --- | --- |
| Posted on March 5, 2019 at 4:00 PM | |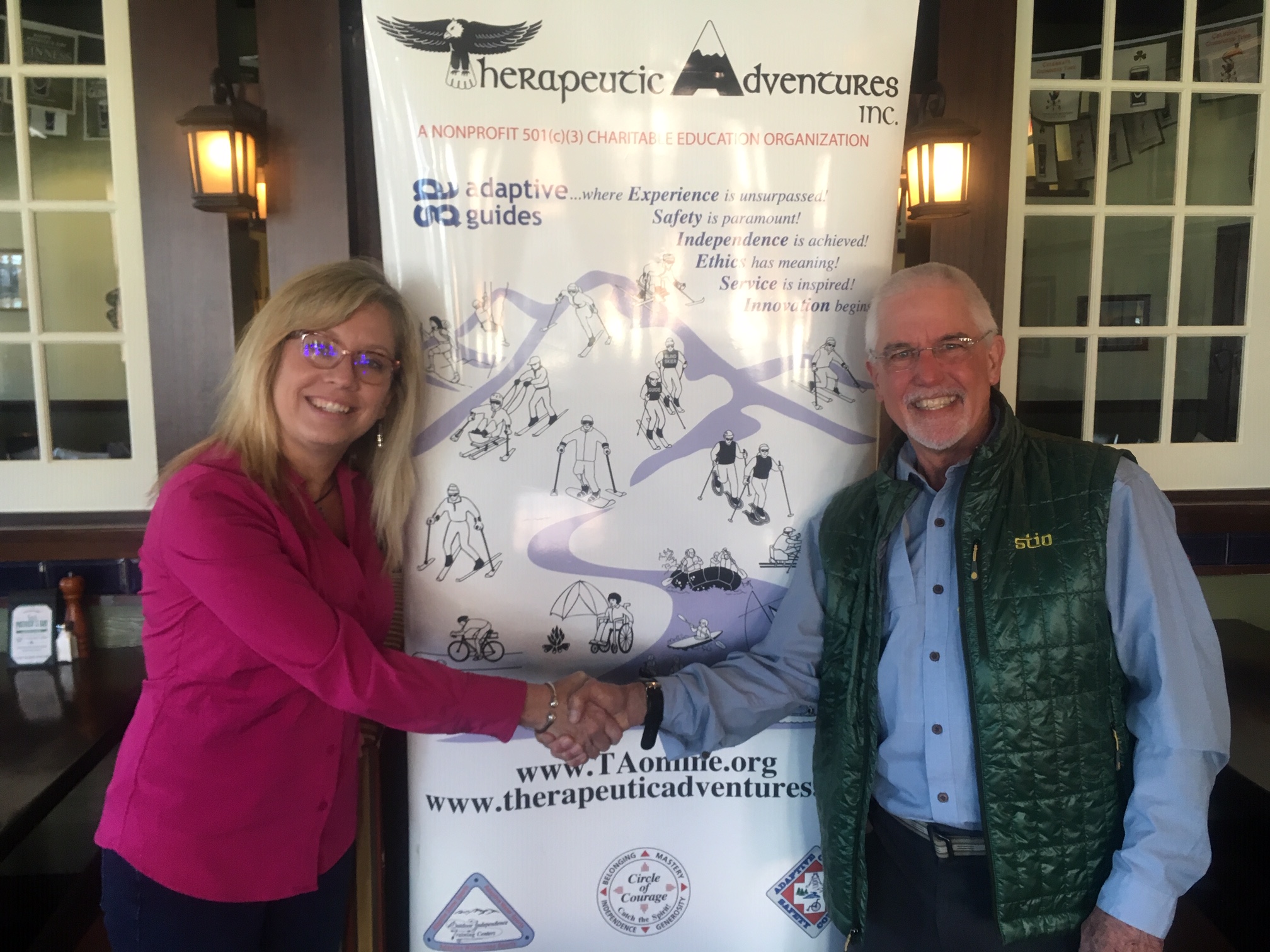 Kelly Haneklau (Founder/Owner of Minor Miracles) and Mark Andrews (Founder/Executive Director of Therapeutic Adventures, Inc.) share a hand-shake to show their their commitment to the first annual Art of Life GALA.
Kelly Haneklau, local artist and Founder/Owner of Minor Miracles in Bristow, VA is happy to announce that on May 24, 2019 at 7pm at the Sweeney Barn in Manassas, VA, she will be hosting the first annual Art of Life GALA: a fundraiser/art silent-auction supporting Therapeutic Adventures, Inc., a Charlottesville-based non- profit organization. Haneklau stated, "The work this organization does is beyond amazing and has touched so many lives for almost 40 years. I am honored to be a small part in the awareness of the work they do and it is a pleasure to work with Mark Andrews (Founder/Executive Director), to make these dreams a reality".
"We hope to draw over 400 adult community members for this evening to remember. There will be amazing art and items for auction, guest speakers/performers, delicious local food and drink, music, games and community spirit!" Haneklau remarked.
"The Art of Life GALA will bring awareness of the specialized needs that people with disabilities have, the sacrifices our veterans have made for us, as well as raise donations to purchase equipment and enable adventures for TA program recipients," said Andrews. Therapeutic Adventures, a Virginia based, non-profit organization that helps disabled people of all ages who have complex medical needs (including our military veterans and cancer survivors) enjoy life through outdoor activities- like skiing, fly-fishing, kayaking and cycling - just to name a few. Therapeutic Adventures priority has always been to support individuals and families with partial to full scholarships and specialized adaptive equipment, making participation adaptive sports and outdoor recreation a reality. Many programs and events are provided at NO cost to the participants. TA's specially trained, all-volunteer program staff, enables people to embrace fun and meaningful activities that improve functional independence and quality of life.
 
Sponsorships are being sought from local businesses, companies, and individuals to support Therapeutic Adventures' fundraising goals. Haneklau said, "community support and involvement are the cornerstones of this event's success". Kelly noted that our immediate community does not have a lot of opportunities like this. So it is important to help foster this type of event so more will happen in the near future.
This GALA will not only raise awareness and provide much needed support, but bring people together for a fantastically fun evening, not to mention an excuse to get dressed up! Black-tie optional. Ages 18 and older please.
Every ticket purchase helps. One hundred percent of the proceeds go directly to the organization and the wonderful work they do. Tickets are on sale for a limited time at www.insidenovatix.com. Search: "Art of Life GALA" To volunteer or for more information, visit www.taonline.org or contact the event organizer, Kelly Haneklau at [email protected]
 
Categories: None